ONE HEART ONE SOUL - Newsletter 3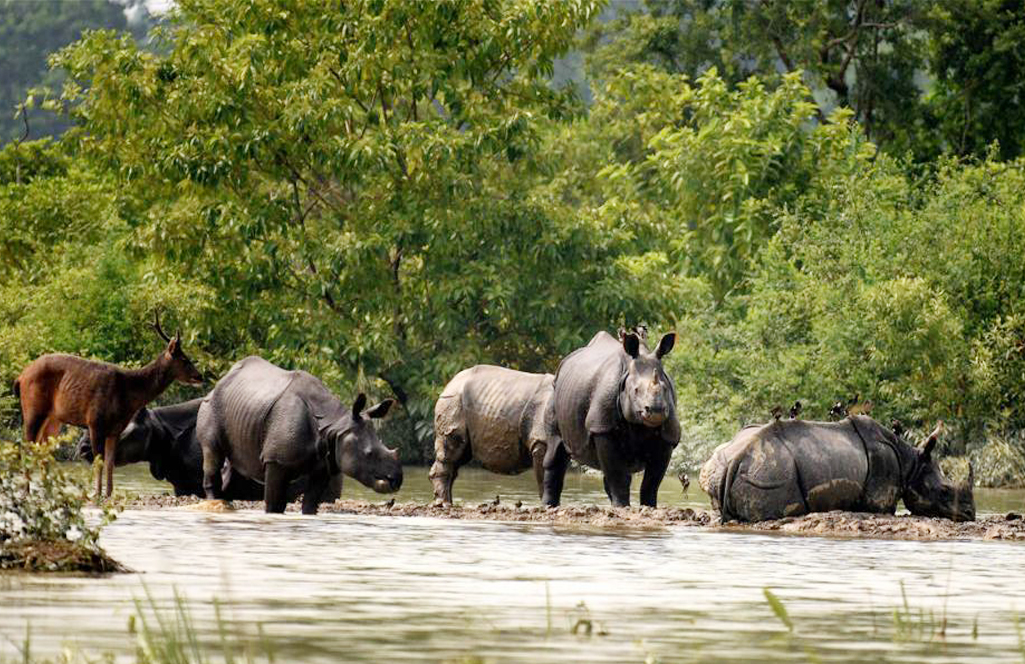 On Day 6 of our journey through this diverse land, we enter Assam, the home of the mighty Brahmaputra (son of Brahma). The livelihood of the inhabitants depends on this river. It originates in the higher reaches of the Tibetan plateau. It definitely spreads its largesse to the alluvial plains of the Assam valley. Assam is the largest producer of timber and tea in the country and also has the oldest refinery in India. The state is home to many endangered wild life species such as one-horned rhinoceros, the golden langur, the Gangetic dolphin to name a few.
Majuli Island: This Island is the world's largest riverine island located in the Brahmaputra River. It has long served as a monastic retreat for "Satras", Vaishnava monasteries (followers of Lord Vishnu). The "Mishings" a Tibeto-Burman tribe call Majuli home. They live in thatched houses raised on bamboo stilts. I was honoured to be invited into their home when I visited in March this year. An interesting feature of this visit is lunch with the monks, followed by a dance performance.
Kaziranga National Park: Day 8 is devoted to visiting Kaziranga, a wild life sanctuary established in1905. As mentioned earlier, it is home to many endangered wild life species and is teeming with bird life.
As we travel from Kaziranga to Guwahati, we stop enroute at the premises of Anuradha Pegu, a local traditional Assamese designer. She is renowned for her hand woven saris and "mekhala chadders" (national dress) in silk. This is a good place to get some unique souvenirs and gifts.
Guwahati: the capital of Assam and resembles any other city. We are here for an overnight stay. The Jesuits have a significant representation here and I am in the process of trying to organise a meeting with them.
When I visited this entire region in March this year, I was captivated by the beauty of this place. Apart from the beauty, the warmth of the locals is something that will create an everlasting impression on you. Their warmth is genuine without expecting anything in return.
I wish you a Happy New Year and sincerely hope it will be a safe and peaceful year for all of us.
Till my next One Heart and One Soul newsletter…
Thanks,
Marie Fonseca
www.spiceodyssey.net.au